Check Pedalboard gallery of EvenMidi users for inspiration

Control up to 4 Midi devices
Control 1, 2, 3 or 4 Eventide H9 (or any Midi device) at the same time (Live Mode) or switch between devices (Solo Mode). You can set Midi channels for each Midi device. EvenMidi contain Eventide (H9 & Factors) and Strymon (Timeline-Mobius-BigSky) Midi Control Change stocked in memory and easy to call. EvenMidi H9 is oriented to work with Eventide H9 but not only, it's an universal MIDI controller.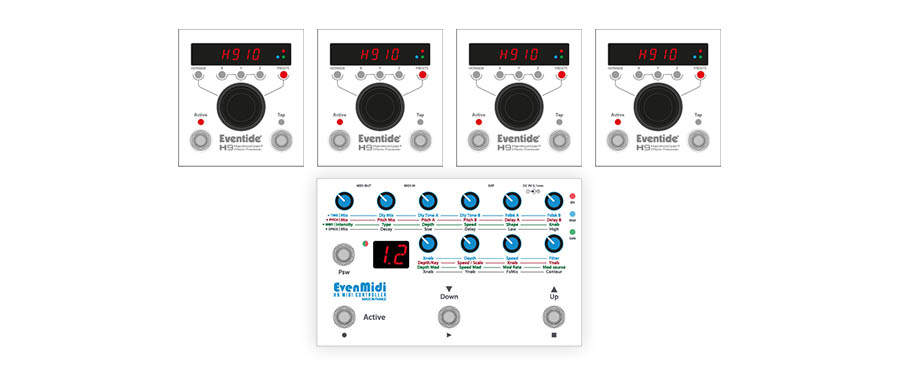 Almost plug and play
The configuration is extremely simple and takes less than 2 minutes. Follow the Quick Settings menu in the user manual to configure your devices. The EvenMidi is factory configured to work directly with an Eventide H9.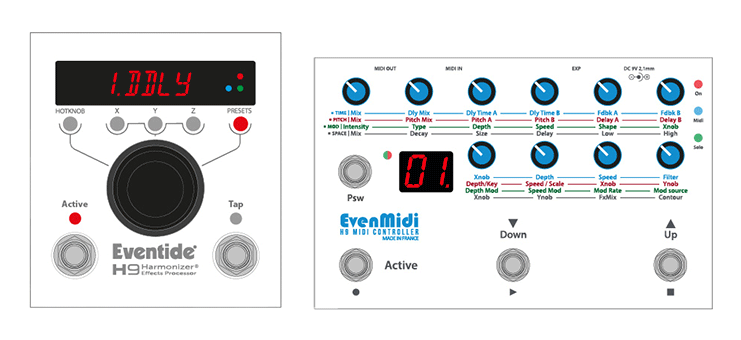 What's the difference with a 2 or 3-button footswitch
What's the difference with a 3-button footswitch
Midi CC (Control Change)
OK
OK
Midi PC (Program Change)
NO
OK
Control 4 Eventide H9 separately or at the same time
NO
OK
Control Strymon, digitech Whammy, any Midi device
NO
OK
Bank Mode: 9 banks of 3 presets
NO
OK
Customize 27 presets as you want
NO
OK
Expression pedal input
NO
OK
Midi IN/OUT/THRU
NO
OK
Switch from Looper Mode to Solo Mode (CC)
NO
OK
Don't need to see/touch Eventide H9
NO
OK
Set preset parameters with pots
NO
OK
Don't need H9 control app to set presets easily 
NO
OK
Devices
You can set 9 differents types of devices targeted :


Eventide H9 or TimeFactor (Looper)
Eventide PitchFactor, ModFactor or Space (Factors with no Looper feature)
Strymon Timeline (Looper)
Strymon Mobius
Strymon BigSky
Generic 01
Generic 02
Generic 03
Generic 04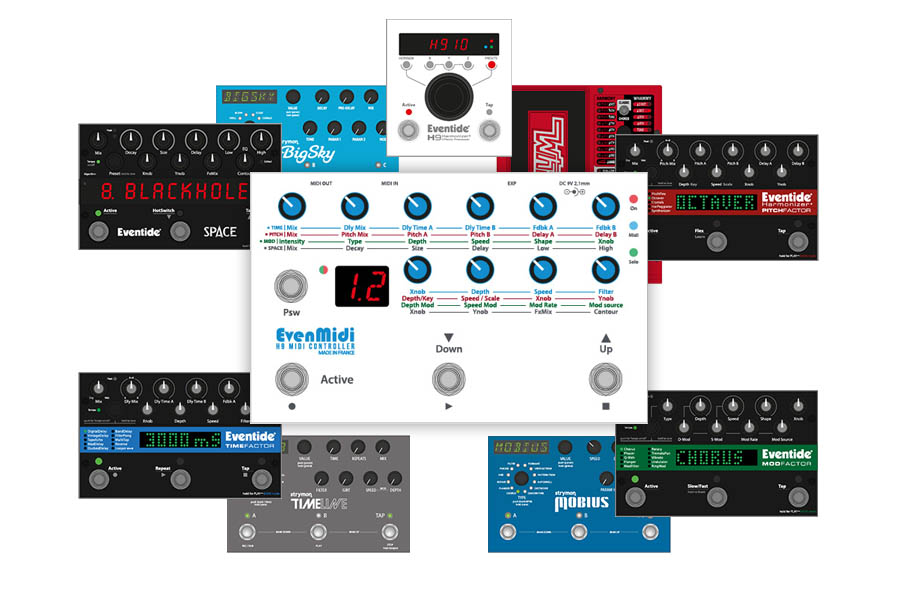 As you can read Eventide and Strymon are pre-configured to Match with Midi. The Generics are 4 units that you can customize (pots (Control Change), Expression pedal(Pitchbend or Control Change), bypass type (Program Change-Control Change + number) . You can now see how much EvenMidi is powerfull and can control any Midi device such as your amp, your whammy, your AxeFx...
Edit your sound directly
10 pots and 4 soft footswiches for a total control. Adjust and play with your tone live!
No more time on your PC or iPad for tone edition. All parameters are under your eyes and you can play with it. Think about psychedelic delay auto-oscillation for example. In addition to guitarists, this controller is also very appreciate by musicians in electronic music : They love potentiometers!



Solo Mode

The Solo Mode can only control one device at time and you can switch between devices. Scroll through the presets, load them, activate PSW Performance footswitch to freeze a delay or change your rotary speed for example. If you use several Midi devices in Solo Mode, PSW footswitch allows you to switch devices. Very handy.

You can limit the number of preset for example from 1 to 25 instead of 1 to 99
Live Mode
The Live Mode controls all devices at the same time. There are two possibilities to access presets :


Instant access to 27 presets (9 banks/3 presets) for a perfect Live experience. Limit the bank number as you need (1 to 9 banks).
Access to 99 presets by scrolling as Solo Mode, PSW switch can be set to Tap tempo.  Limit the preset number as you need (1 to 99).
Customize your presets
You can fully edit & save 27 presets. Here is a concrete example of what contains an edited preset :

Preset 1A contains:


H9(1) : programChange 2
H9(2) : programChange 17
Marshall JVM : programChange 21
Whammy : programChange 21
Potentiometers target H9(2)
Expression pedal targets Whammy (CC11)
Customize your devices
You can customize 4 generic devices as you need. Here is a full example.

Generic 1 device specifications:


10 knobs assigned to [CC1-CC10] (control change) | range CC0-99
Expression pedal send PitchBend | or range CC0-99
Bypass is set to PC0 (program change 0) | or range CC0-99 or off
When you edit your Generic specifications, you can test it directly before storing in order to check your knobs and expression pedal work as you want.
Looper Mode
With Looper Mode, you can direct access/exit and control the whole looper like a factor stompbox and more. The Looper Preset is loaded automatically (press active footswitch 2sec) and you can control all Looper parameters as the TimeFactor pedal. You can switch from one device to another while your loop is playing. The Strymon timeline is already set to access looper. press Stop Footswitch 2sec to exit Looper Mode and back Solo Mode.
Expression pedal
Plug an expression pedal to control a parameter with your foot. Volume, Wha, Pitch, Hotknob...Eventide are target to Pitchbend and Strymon to Control Change needed. You can calibrate your expression pedal in the settings.
Tips
Here is Tips and shortcuts to access everything:


Scroll through your presets quickly by holding Up or Down footswitch.
Put your potentiometers ON or OFF quickly by holding 2 sec. Up & Down footswitches. Very handy when you are on stage.
Since Firmware v1.2 access to global settings menu by holding 2 sec. PSW & Down footswitches .
Switch from Solo Mode to Live Mode by holding 2 sec. PSW & Active footswitches 2 sec.
Switch from Solo Mode to Looper Mode by holding 2 sec. Active(Play) footswitch. Exit by Holding 2 sec. Up (Stop) footswitch.
Midi In/Out Thru
Connect all your Midi devices. For example if you use another Midi controller before the EvenMidi,
you can plug it in the EvenMidi because all Midi messages received (MIDI IN) are THRU (send to MIDI OUT) including Midi Clock. You can also control EvenMidi by sending PC and CC messages (to control Modes, presets...) on its specific Midi channel since 1.4 firmware.