Shipping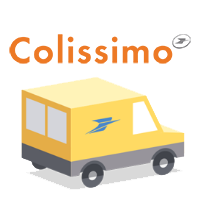 Worldwide delivery
We ship worldwide. Shipping costs are Free.
Shipping your package
Packages are shipped max within 2 days after receipt of payment. In most case it's shipped within 24 hours (open days). They are shipped via "Colissimo - La Poste"  with tracking number and delivered against signature. We send you a link to track your package online. When the parcel is outside the France, it's handled and delivered by your local Post company.
https://www.laposte.fr/particulier/outils/en/track-a-parcel
Shipping time
The delivery time depends on the carrier and the vagaries of the postal transit. In metropolitan France, packages are usually delivered within 48 hours. In Europe at least 72 hours. Count 6 working days for the United States. Check the delivery time to your country on the postal website: http://www.laposte.fr/professionnel/outils/calculateur-de-delais
Customs
- Outside EU: All products shipped outside the European Union are sold without VAT. Products are subject to customs clearance. You must therefore pay the customs duties corresponding to the taxes in force in your country and to the carrier's file fees.
- Inside EU: All products shipped inside the European Union (except France) to companies which provide an intracommunity VAT number are sold without VAT. Products are NOT subject to customs clearance.
Here is the list of countries where EvenMidi customers are coming from:
Argentina - Australia - Austria - Belgium - Brazil - Canada - Chile - China - Czech Republic - Denmark - Finland - France - Germany - Greece - Hungary - Indonesia - Ireland - Israel - Italy - Japan - Lithuania - Malaisie - Mexico - Netherlands - New Zealand - Norway - Philippines - Poland - Portugal - Russian Federation - Spain - Sweden - Switzerland - Taïwan - United Kingdom - United States - Vietnam -
If you don't find your country in this customer list, don't be afraid, we ship worldwide for free.
Average time to ship a package
11:20:47.6149* (H:m:s)
*Calculated on working days only
Percentage of parcels shipped in less than 5 hours
26.71 %