A Few Words
Hello Folks ! I'm working on a new version of the EvenMidi Controller since September 2018 as you probably know. The first prototypes PCBs have been received on January 2020 and are actually tested for check/improve. A big part of the project is coding : all the mains function and settings menu have been done (hard work). Here is an introduction to some features of the controller incoming. They are a lot of new features, I won't introduce all now but here is some of them. Hope you enjoy to watch a little part of my electronic world.
Pots with leds :
Thanks to 13 leds around each pot you could easily check the value pot saved. A catch feature allows to only change the value if the pot physically target the value saved. With the encoder you could move the value of each pot with more accuracy (14 bits) than pots (actually 7 bits but maybe up to 10 bits).
Big Display :
When you are on stage (or not) it sometimes confusing to push a button with a simple screenprinted or displayed number. " Hey ? Is this number is really the preset that i want to activate ? "
Some controllers use LCD to display preset numbers and more, but according to my musician experience they are not easy to read on stage : light problems or sun, sometimes too much informations are displayed : this may be confusing... Nevertheless they are easy to program (lot of library availables) and low consumtions :).
But i wanted something better, different, more user friendly and more visible on stage.
My idea : use a big dot matrix display : this kind of display is freacking cool and very easy to read : leds shines !
I can handle uppercases and lowercases characters : you will love it.
The display library is coded by myself. It taked me a long time to reaches the perfect result and solve all the electronic constrains but I'm very happy of the result. The video shows a display test. This is pretty much how works the displays at slow down speed : retinal persistence 1/14.
Update 08 February 2020 :
The displays works great and minor issues have been fixed. A lot of shift register stuff and math calcul here. The 7-segments or 14-segments displays should have been so much easier to handle but I don't care, the result is way much cool with Dot matrix. The knobs follows Leds but can be improve for more accuracy. Still a lot of work to achieve but this first part of coding the display seems to be close to over :).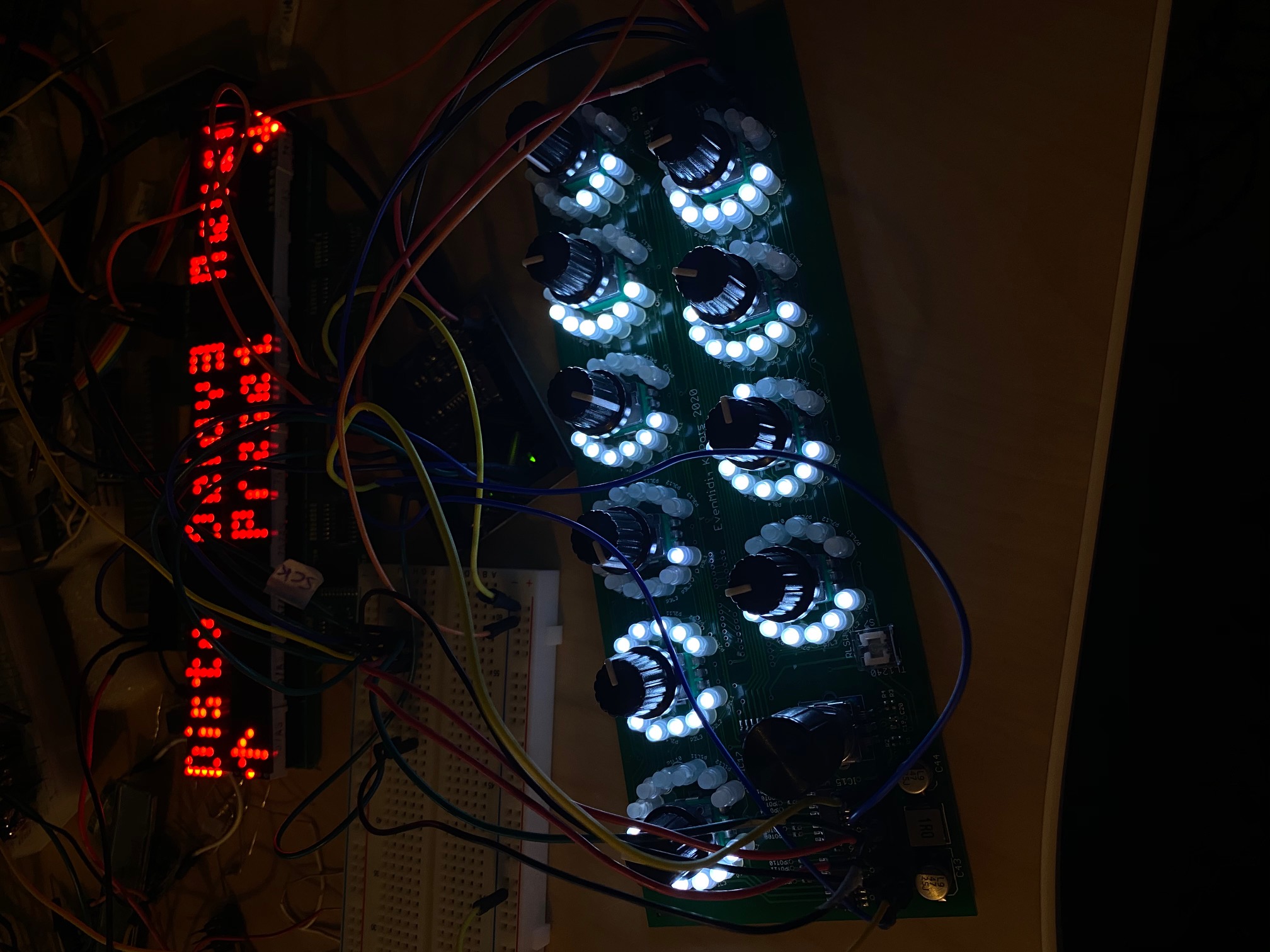 Footswichs :
Update 05 March 2020 :
PCB prototype have been delayed because of Coronavirus. I've received a new PCB display with fixed issues and footswitch + RGB Leds included. Tests seems OK for the moment here is a picture after Led RGB resistors calibration. The display is under this wood panel, I will cut it next time :)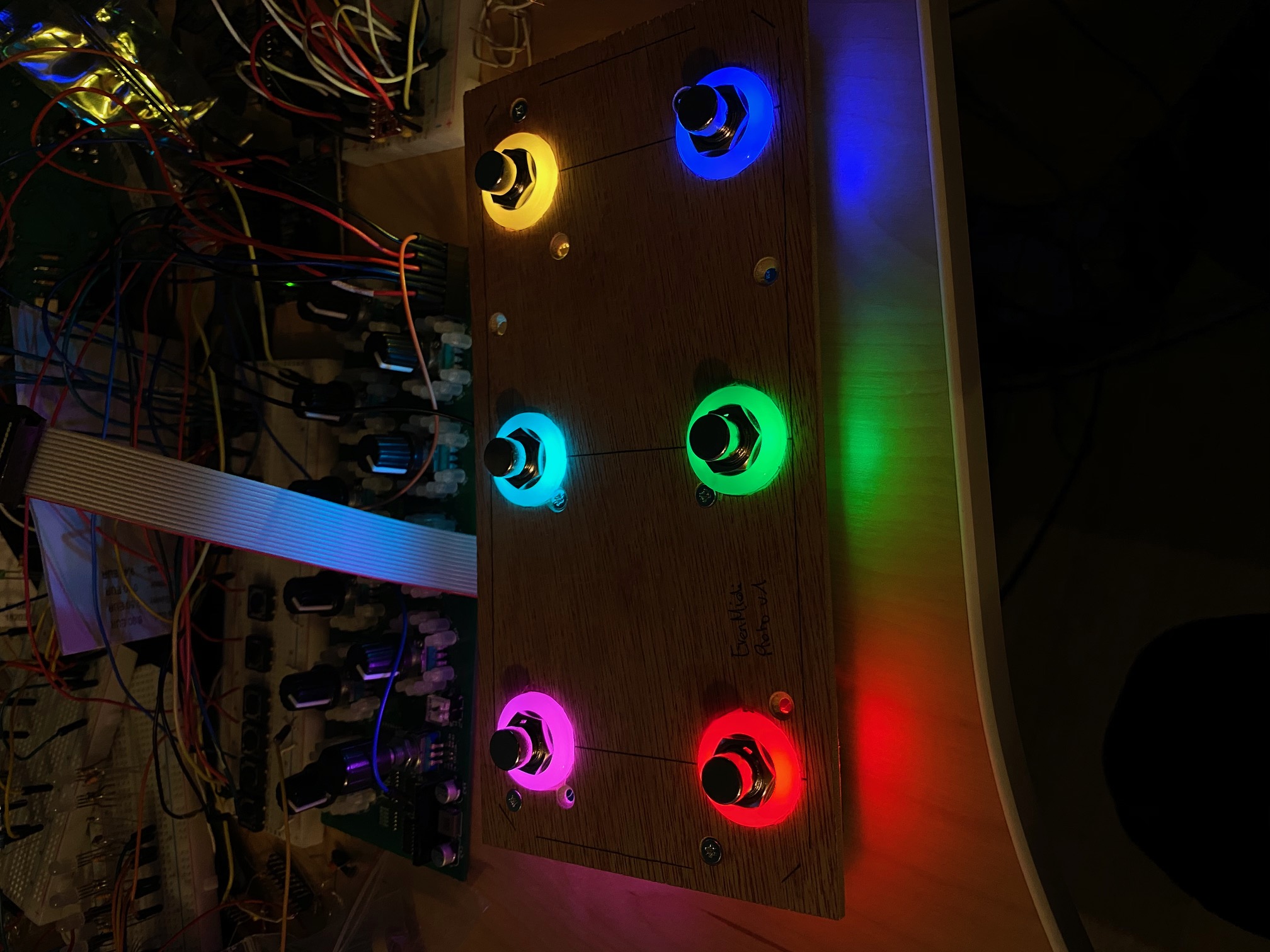 Motherboard :
Update 11 March 2020
Here we are with the display :). Hope you enjoy this picture as much as I do :). It stays a lot of work but now I can work with a very cool proto :). By the way, all the H9 "pots" have been integrated to code with a self made "pot label" generator and follow the H9 behavior. It should be even more open on other stuff because with my generator, it's not a big deal to add strymon and other pots of any device.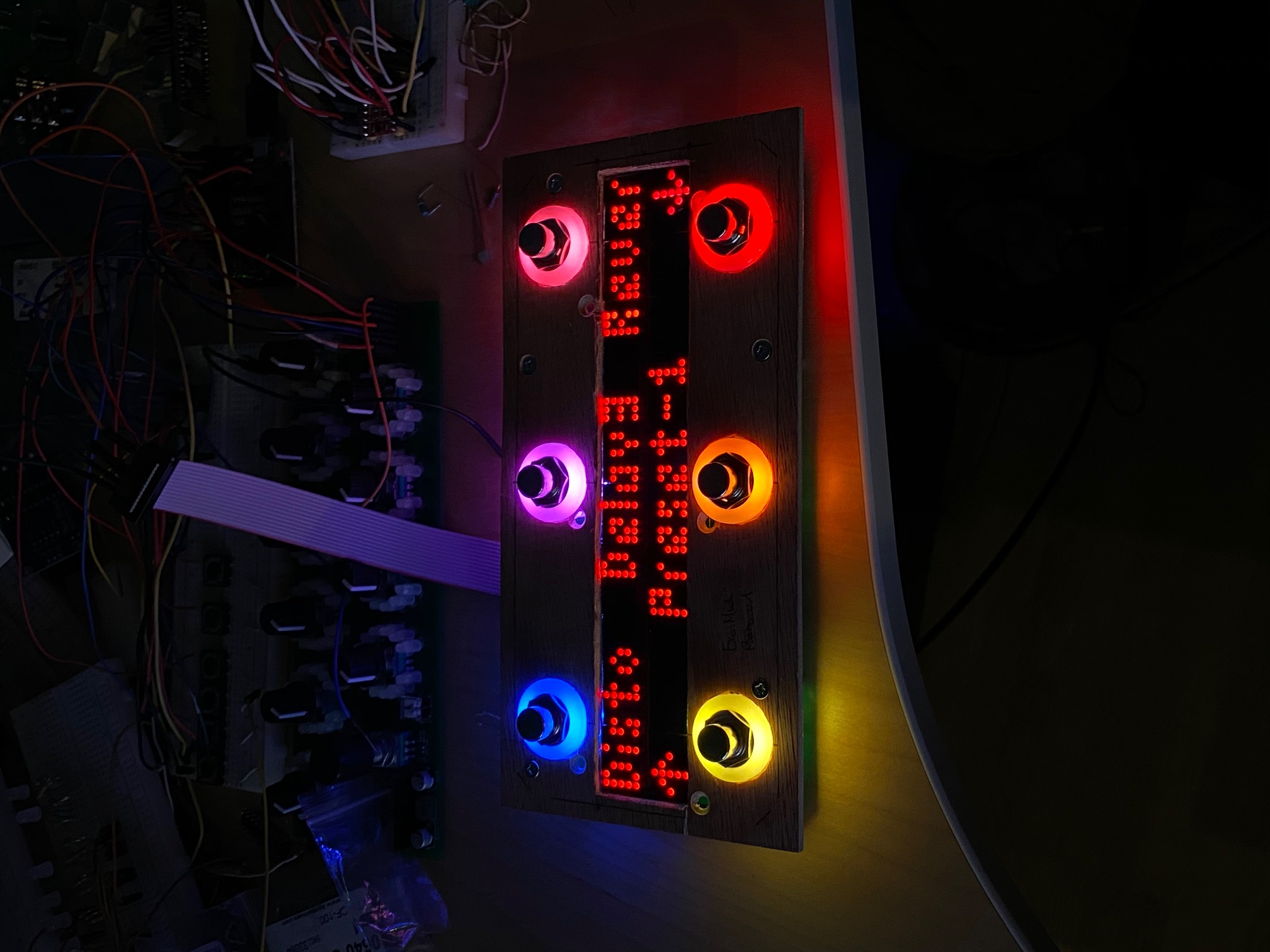 The motherboard is pending production and should arrive at the en of March. But I will switch technology for a more powerfull microcontroller and add sdram and flash memory. So there will be another motherboard than the incoming prototype. Without this added flash and Ram i have not enough space to store and displays all that this controller need so it's time to grew up :).

Update 05 April 2020
Well it seems the world have changed since 16th April 2020 in France because of covid19. I have the chance to continue my regular work at home (I'm web developer in an e-commerce company) and have a lot of time after work to work on this controller. Many of my PCB prototypes have been delayed by manufacturer and then by shippers but I ve received some of them, fixed some of them and everything 's going fine. Here is a picture of the main PCB received few days ago. I've ordered it at the end of January and received it on April instead of start February :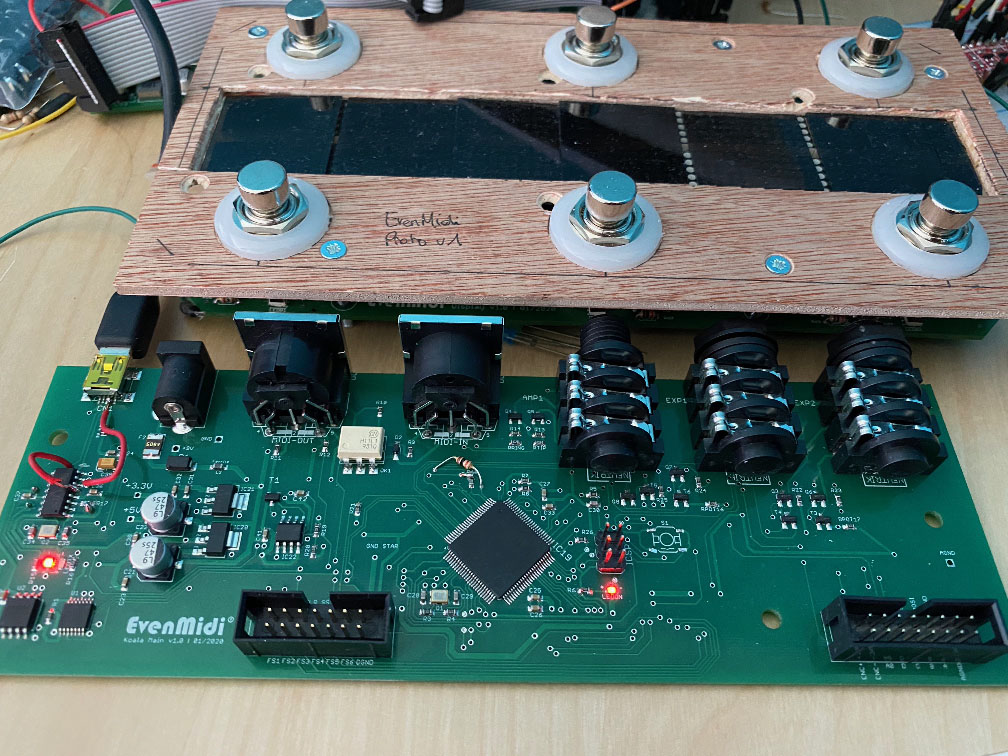 Every bascis features are tested :


Check Voltages
Burn Bootloader on microcontroller (the bootloader is a little part of code that handle user to upload the program via USB)
Upload program via USB
Check Midi Ouput and Midi Input
Check Amp Switcher
Check Expression1-2 (Midi Output 2-3)


I have also changed the way I work. Before I was only working with Google Drive. In my web developer job I have learn to work with JIRA tool. There is a free version for small project and honnestly it's really great for me. Everything I do is write in tickets and planned in sprints. Organisation is very important in a complex project like this.


What I am waiting now :
 
1 - PCB Display was ok but needed some improvment


add tolerances distance between dot displays (they were a little bit too close)
improve pricing by changing 4 expensive chips with no reason by 8 cheaper and as good technology -> a lot of work on PCB but cost is a very important part of the project to provide a great controller not too expensive for you (and for us).
RGB Led Resistors have been fixed and integrated as SMD components on the board. 
2 - PCB pots :


The main problem of this PCB was the cost. 130 * 3mm Leds costs around

0,059

*130 =  7,72€. The component placement is done by humans and cost 5.18 €. Total : almost 13€ for 130 Leds. And actually I don't like to think to this working people putting 130 Leds on my circuit with their hands, it sounds like a labor work.
So i've remake all this circuit with SMD Led and create in fact 2 PCB : One contains only the Pots. The other pcb is overlaid and contains all the Leds. In the first version, the Leds were monocolor white but I have work a lot and can finnaly put RGB Led. So you could imagine that the pot color can be the color of your preset or even like fader led colors (green orange red) : everything is possible now. i have also work to have the less current sinked. I'm the kind of guitarist who doesn't like to have one of his stompboxes working with a power supply that my own power supply can't provide. So my goal is that controller must works under 500mA at 9V wich is not easy with so much Leds. For the moment everything is ok.
3 - Bye Atmel :


Now my next goal is to switch technology. Actually I was working with ATMEL microcontrollers that some of you must known (arduino nano for Pitchy and H9 or mega for this new one). I need more space, more SPI, faster calcul : I'm actually moving to STM32F4 microcontrollers. They provides exactly what I need and I can extend them with external Flash and RAM which is what i want to do. It starts to looks like a computer :). I think this will be difficult but I love challenges and improve my skills. 


I'll keep you informed every months of what have been achieved. 


Thank you for your kind message on the support. I have really no idea when the project will be ready but i try my best and hope the world will be better after this covid19. Keep safe and if you have to stay at home, enjoy this family and guitar/music time :).