A Few Words
Hello Folks ! I'm working on a new version of the EvenMidi Controller since September 2018 as you probably know. The first prototypes PCBs have been received on January 2020 and are actually tested for check/improve. A big part of the project is coding : all the mains function and settings menu have been done (hard work). Here is an introduction to some features of the controller incoming. They are a lot of new features, I won't introduce all now but here is some of them. Hope you enjoy to watch a little part of my electronic world.
Pots with leds :
Thanks to 13 leds around each pot you could easily check the value pot saved. A catch feature allows to only change the value if the pot physically target the value saved. With the encoder you could move the value of each pot with more accuracy (14 bits) than pots (actually 7 bits but maybe up to 10 bits).
Big Display :
When you are on stage (or not) it sometimes confusing to push a button with a simple screenprinted or displayed number. " Hey ? Is this number is really the preset that i want to activate ? "
Some controllers use LCD to display preset numbers and more, but according to my musician experience they are not easy to read on stage : light problems or sun, sometimes too much informations are displayed : this may be confusing... Nevertheless they are easy to program (lot of library availables) and low consumtions :).
But i wanted something better, different, more user friendly and more visible on stage.
My idea : use a big dot matrix display : this kind of display is freacking cool and very easy to read : leds shines !
I can handle uppercases and lowercases characters : you will love it.
The display library is coded by myself. It taked me a long time to reaches the perfect result and solve all the electronic constrains but I'm very happy of the result. The video shows a display test. This is pretty much how works the displays at slow down speed : retinal persistence 1/14.
Update 08 February 2020 :
The displays works great and minor issues have been fixed. A lot of shift register stuff and math calcul here. The 7-segments or 14-segments displays should have been so much easier to handle but I don't care, the result is way much cool with Dot matrix. The knobs follows Leds but can be improve for more accuracy. Still a lot of work to achieve but this first part of coding the display seems to be close to over :).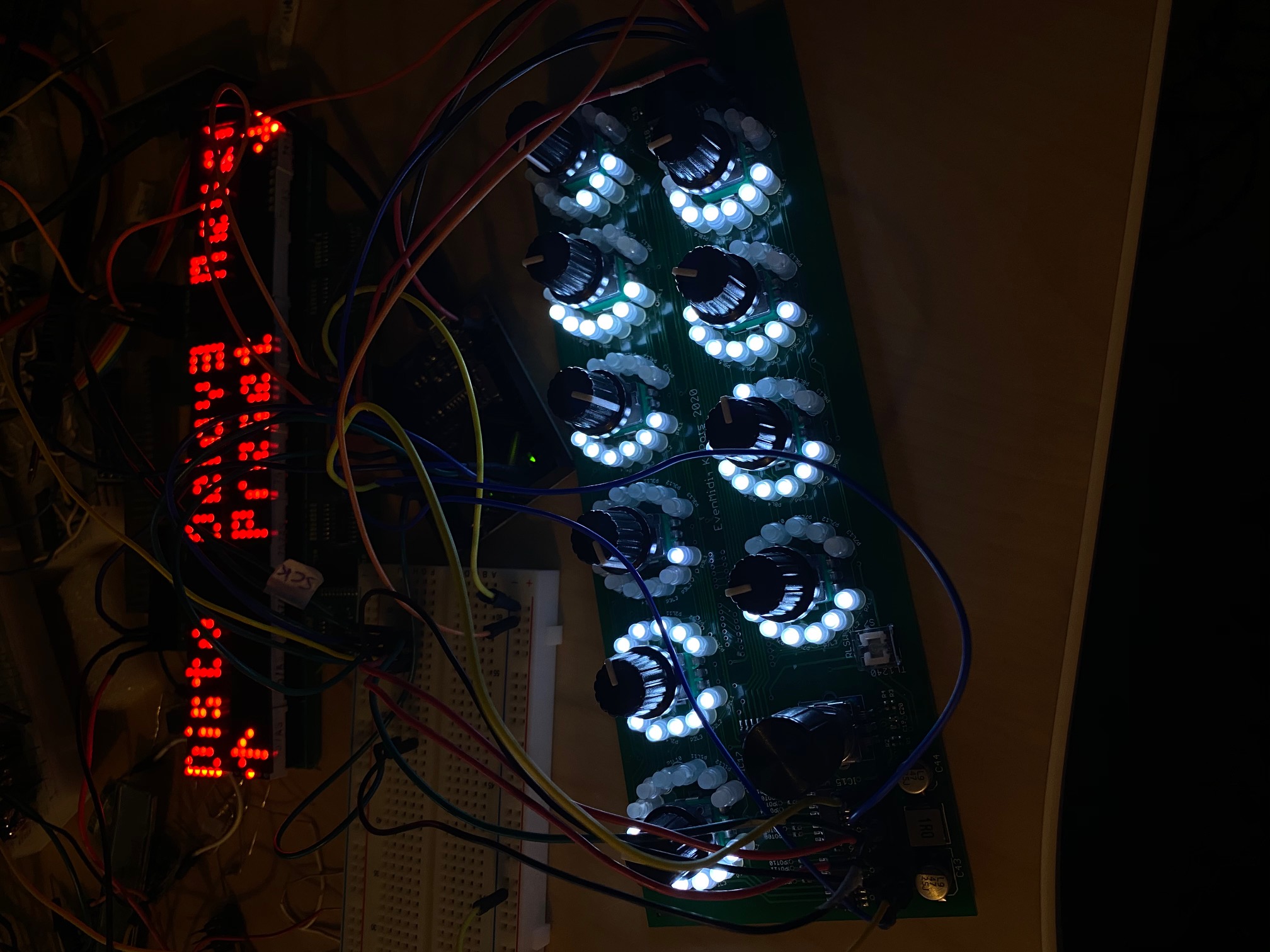 Footswichs :
More informations Later
Motherboard :
More informations Later