History
The Pitchy is born of successive ideas:
Recall all Whammy presets (Shallow & Deep included) on Eventide H9 by using only one preset (Pitchflex algorithm)
Use it with your expression pedal calibrated as you want
Recreate Ricochet effect with footswitch when you don't want to use an expression pedal
Make it works with all digitech Whammy with MIDI and all modes included (classic/chords for WH5/WHBass and Drop Tune for WHDT). Now, you can rack your whammy without losing the cool encoder scrolling sound :)
Create a Sequencer with edition and tap tempo (24 presets) 
Add Midi Input to expand features as much as possible and open this features to read sequences written on a DAW(Pro Tools, Reaper...) piano roll.

As you can read it's a strong and very versatile tool.
Devices
Here are the targeted devices:


Eventide H9 or PitchFactor
Digitech Whammy 4
Digitech Whammy 5/Bass
Digitech Whammy DT

As the original Digitech Whammy 4 only contains 17 presets, Pitchy recreates the 4 missing presets from Whammy5.
Digitech Whammy plug and play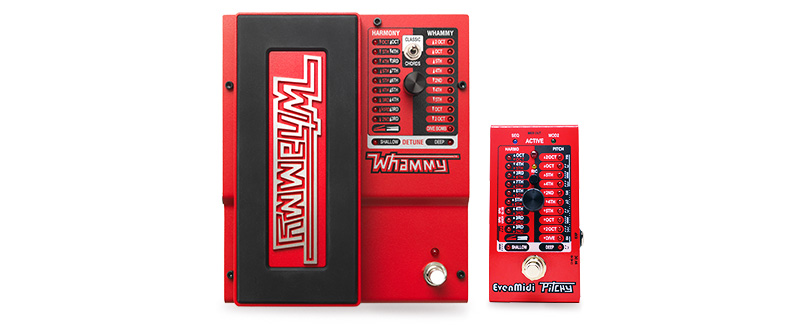 Setup is easy when Pitchy is using with a Digitech Whammy if you have never touched the Midi channels Receive. Plug your Midi cable from Pitchy to Whammy, connect your expression pedal. You may need to calibrate it, then you are ready to use Pitchy and have fun.
Eventide H9/Pitchfactor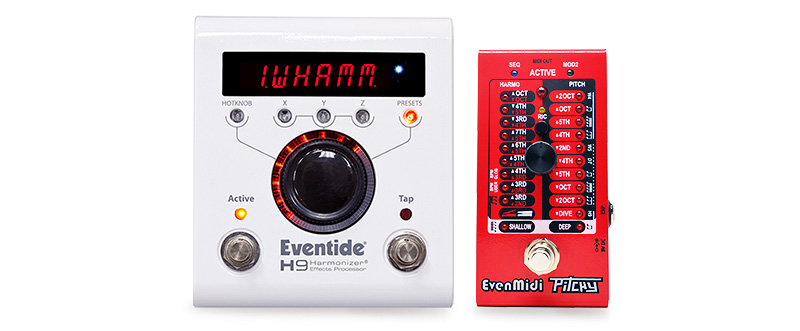 Pitchy will call an Eventide preset number when engaged. You will have to set this preset number to the PitchFlex algorithm according to Pitchy notice. You will need to set Expression pedal to Midi PitchBend. Once the settings achieved you will don't need to touch it anymore. Pitchy fixes the well known problem of step sensation while pushing the expression pedal. Movments are perfectly linear without any step.
Expression pedal - Ricochet

Pitchy can be used with a standard Expression Pedal. You can also replace it by using footswitch in Ricochet Mode (the up and down speed are adjustable). If no expression pedal is plugged, Pitchy sends max value (very cool for players who don't wanto to use an expression pedal or a small rig).

The expression pedal is still sending Midi datas when Pitchy is off.

That means you don't need to use a specific expression pedal for Pitchy if you already use one for your H9. Here is how works the Ricochet effect. Leds represent the expression pedal position. Speed up and speed down are customizables:

Sequencer
The Sequencer included is very funny to use.

If you're a Pink Floyd fan (On the run - Dark Side of the Moon) or Muse fan (Map of the Problematique - Black Holes and Revelations) you know how cool can be a sequencer. If you don't understand, the Pitchy sequencer will change the Pitch every step. If you play 1 note, you will hear a melody of 8, 12 or 16 notes according to your preset choice. The sequencer is chromatic and cover -24 to +24 semi-tones. You can use it in standard mode on/off with footswitch or Ricochet to only play the sequence one time if the footswitch is pressed. The switch encoder hide a Tap tempo from 30 to 500 bpm. You can also synchronise the tempo thanks to external Midi Clock in Midi input.



Tips: Each sequence is stored for all devices. It means that the same preset can be playable by Digitech Whammy4, 5, Bass, DT or Eventide H9, Pitchfactor. Pretty cool right ?
Info: if you use a Digitech Whammy 4, the preset changing time is not negligible. If your sequence change from -24 to +24 semi-tones or even from -1 to +1 semi-tone, the changing preset may result on a delayed note. Just stay on the same preset to avoid that problem (0 to +24 or 0 to -24). No problem for other Whammy or H9.
Customize your sequences
Sequencer is divided in 3: 8th,12th and 16th notes to cover most music case. You can edit a preset and try it before storing. It's easy and funny to edit. The result is very inspiring.
Midi Output / Thru
Connect the Pitchy directly to your Eventide/Digitech Midi In or between your main controller end the targeted devices. With a Boss ES-8 you can use the output EXT CTL EXP1 to keep your main expression pedal plugged in the ES-8.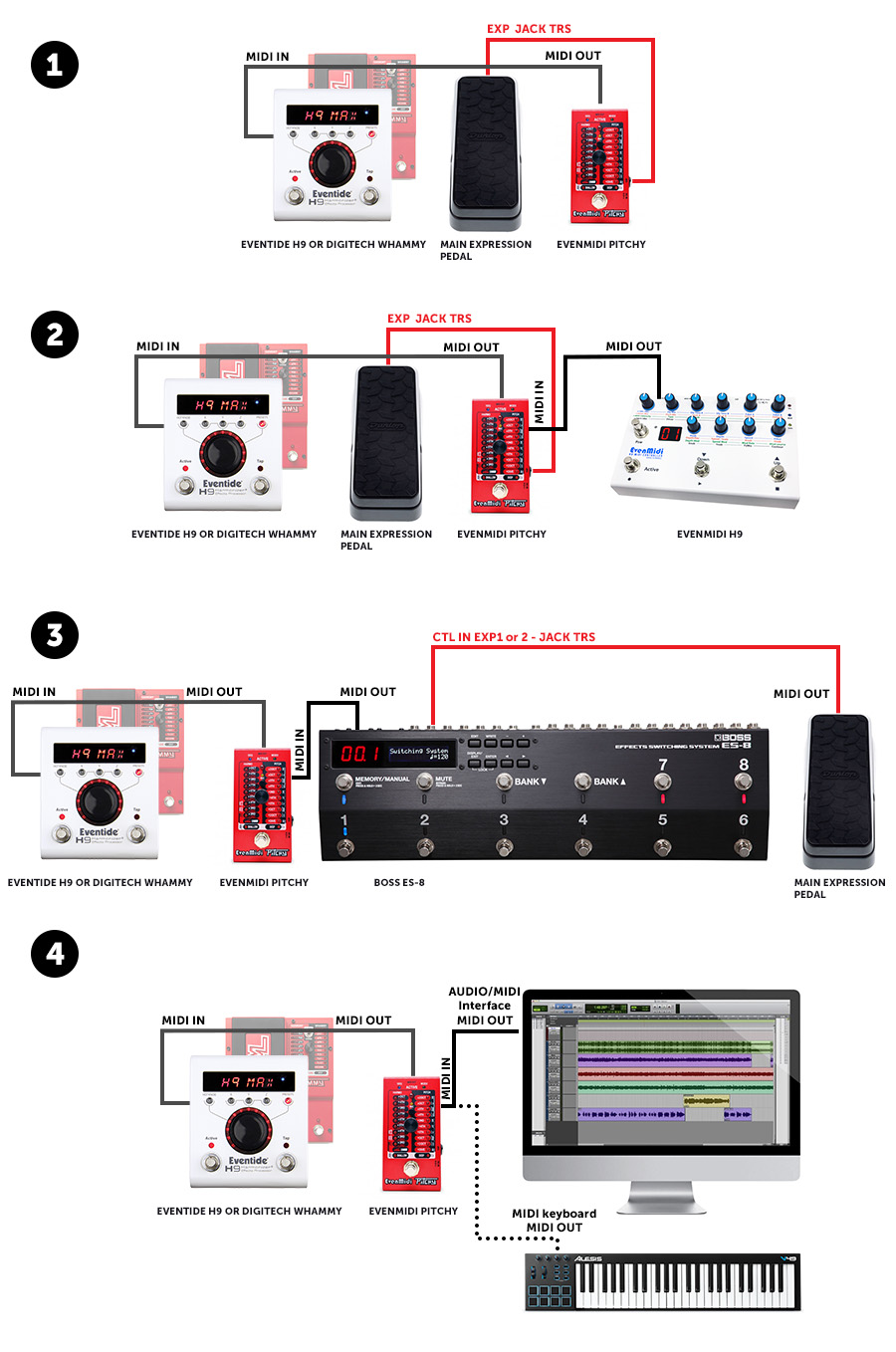 Midi Input is an upgrade of Pitchy Version 1 (without Midi Input). Actually the output is now Midi Thru so it will be easier for complex rig (with a main midi controller). But that's not the only feature, just look are the crazy things that are possible now :
Watch this very nice test (not sponsored) by this two cool guys having fun with Pitchy and an H9: